Happy Tuesday! Here are 11 things that I am totally into right now.
Sweat App: The Sweat app is designed for those who want more weight resistance in their workouts but want to do it in a short amount of time. I have been using this app for the last 4 weeks. You can do most of the exercises at home and all workouts are done in under 30 minutes! The app offers 4 different programs: BBG, BBG Stronger, PWR and Post- Pregnancy. It also offers a yoga flow. I do BBG because it requires the least amount of props. Each week you are given 3 resistance workouts (legs, arms/abs, total body), 2 rest days and one challenge day. The app also offers a whole series of stretches, along with a meal plan and recipes. It is $20 per month and totally worth it in my opinion! I quit my gym membership last month because I find the Sweat App to be way more fun! You will need some heavy dumbbells and a step stool or chair. The main thing that I like about this app its that it is NOT a workout video and there is no talking. I prefer this because then I can listen to music and go at my own pace. It is usually 8-10 moves with about 12-15 reps per movement and the app guides you from one set to the next. Depending on your speed, you typically will do 3-4 sets of each movement. The moves/sequence of moves differ slightly every week. Check it out for yourself here: www.sweat.com
Check out my workout playlist below on Spotify:
spotify:user:robinummel:playlist:26EYln0SOxTzGXIKFBzrYO
Post Malone: 'nuff said.
Diffusers: My mom and my mother-in-law both bought me diffusers this past Christmas. I LOVE them. I use one in the family room and one in my bedroom. I love to mix clove and orange essential oils together. It will make your house smell SO good! If you have ever had the tea called Constant Comment (fave from childhood), it will smell like that!
Buy here:

Succulents/Air plants: My sister has plants all over her house and she inspired me to have more greenery in my home. I bought these babies and they are sooo cute! They take little maintenance, I water about once per week and they have grown so much! I am a proud plant mama! I plan on getting some more for my kitchen and bedroom. I also have a couple cute air plants too!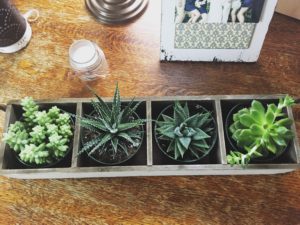 Prada "Candy" Perfume: I am obsessed with this perfume. I got a tiny tester of it from an online order that I purchased from Sephora a couple months ago. It was actually the one thing that I asked my husband to get me for Christmas this year which of course he did not get me (it's ok because he got me a Vitamix instead). But I have been missing it so I finally went and got a roller applicator of it!
Buy here: http://seph.me/2EnjRTs
Vitamix: I totally dig my Vitamix E310. I use it daily. I have a Ninja blender which I like as well, but the Vitamix makes everything more smooth and less grainy and is super easy to clean. I will say that I prefer to use my Ninja when I make Cauliflower rice, but for everything else I will use my Vitamix. Expensive which is why I did not buy it for myself (thanks Ben!)… but amazing to have when you cook as much as I do.
Buy here:
Book Club: If you are looking for a way to get all of your friends together (or to make new ones) starting or joining a book club is the perfect way to do so! I started a book club a couple months ago and it is so much fun! Each month we take turns at someone's house and everyone brings something to eat or drink. So far we have read "The Girls" by Emma Cline and "The Alice Network" by Kate Quinn. Right now we are reading "Crazy Rich Asians" by Kevin Kwan which is also being made into a movie.
Buy here:

C.C Beanies: I received my fave beanie from my husband's cousin at Christmas and I am addicted to wearing it. Super cute! I have the one below in ivory.
Buy here:
Zella High Waisted Leggings: I used to be such a Lululemon snob when it came to workout pants. Now, I buy Zella instead. Much more affordable, comfortable and the patterns and styles keep getting better. I only wear high waisted leggings because for me it is more slimming. The best part? A lot of the time they are on sale at Nordstrom online.
Buy here: http://bit.ly/2EcNpC8
Thunderbird Real Bars: Need a healthy sweet treat? These are the perfect go-to energy bars. Vegan, GF, Paleo, all-natural. My favorite one is their Hazelnut- Coffee- Maca. It inspired my Nutz About Coffee Date Bars which you can find here:
Buy here:
theSkimm App: This is a news app that is directed towards female millennials. Every day you receive an emailed newsletter about popular world news. I enjoy it because a lot of times when I watch the news, things go over my head. theSkimm presents important and relevant information from politics, to tech, to entertainment, etc., in a way that is easily understood and makes you want to keep reading. You can read more about it here: